Over Wisuki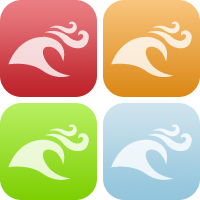 Wisuki heeft een andere benadering van wind en golf voorspellingen, met opwindende nieuwe features, zoals wind en golf meldingen van de meeste landen, die je nog beter kunnen helpen bij het plannen van je surf, windsurf, kitesurf of zeil sessies, en die je nieuwe spots laat ontdekken, met onverwacht goede condities.
Indien u wenst om te samenwerken met ons project of als je opbouwende kritiek hebt, horen we dat graag van u. Gebruik alstublieft ons contact formulier.
Wisuki is beschikbaar in Catalá, Deutsch, English, Español, Français, Nederlands, Português, Suomi, 中文.
Het Wisuki project wordt ondersteunt door de interactieve vertegenwoordiger Cool Z.
Wisuki Newsletter
Introductie voor Wisuki meldingen
Media vermeldingen
30/06/2013 La nouvelle application à mettre dans ton iPhone bij MANGO SURF
07/01/2013 Wisuki apuesta por la alta resolución bij TRICKON
09/11/2012 Wisuki Alerts Review: Beyond Wind & Wave Forecasts bij IN MOTION KITESURFING
09/10/2012 Quiksilver Pro France y nueva app surfer! bij LOVING SPORTS
05/10/2012 Wisuki: Keep Track Of The Surfing Conditions Anywhere bij MAKE USE OF
03/10/2012 ¿Practicas surf o windsurf? Wisuki, la app de previsiones de olas y viento es para ti bij UNIVERSAL PLACES
27/09/2012 Wisuki, previsiones dirigidas al Surf, Windsurf y Kitesurf bij WWWHATS NEW
27/09/2012 Introducing Wisuki bij WINDSURF.ME.UK
19/09/2012 Wisuki Previsión de Olas bij LAESCO
06/09/2012 Le nouveau service météo pour ne plus rater une session! bij MANGO SURF
Quotes
01/11/2012 I think you guys have done a great job so far. zei IN MOTION KITESURFING
28/09/2012 No introduction needed, just enjoy the discovery. zei BOARDSEEKER
27/09/2012 Great looking site and nice interface! zei KITESURF MAG
10/09/2012 Hey mate, site looks cool! zei RIPTIDE
Pers